Futuristic Weapons and Military Equipment of the French Army
During the National Day military parade on July 14, 2019, the French armed forces presented secret weapons as well as the latest military equipment that will enter service.
French defense industries, in collaboration with the DGA (Direction Générale de l'Armement), jointly develop and manage various military programs, in order to provide the French armed forces with the latest generation and innovative weapons and military equipment.


Stamina robot


The Stamina is a wheeled UGV (Unmanned Ground Vehicle) designed and developed by the Franco-German Research Institute of St-Louis.
The Stamina is equipped with a navigation system to carry out autonomous missions through the use of an on-board camera and an image database defining the waypoints of the road mission.
STAMINA is an inexpensive image processing technology that allows autonomous route tracking without GPS.


SHARK Robotics Colossus Robot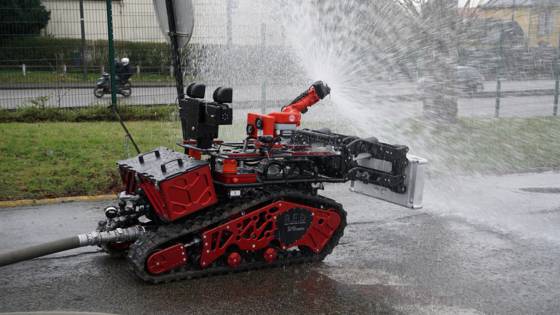 The Colossus is a multi-purpose remote-controlled robot designed to support firefighters and first responders in dangerous missions. Featuring a high-pressure water cannon and powerful all-terrain steps, it can help put out fires, clear debris and evacuate casualties.

The Colossus robot is designed and manufactured by the French company SHARK Robotics to carry out different types of missions, including extinguishing fires, transporting equipment for injured people and reconnaissance missions using a day/night or thermal HD camera.

The Colossus robot is currently deployed within the Paris Fire Brigade (BSPP) and many other regional fire and rescue services in France or abroad. The Colossus has a total weight of 550 kg.
Nerva-XX from Nexter Systems:

Nexter Robotics, a subdivision of the French company Nexter Systems presents three unmanned ground vehicles (UGV) including the NERVA-S, the NERVA-LG and the NERVA-XX.

The Nerva-XX is a medium-sized multi-purpose robot designed to perform reconnaissance and support missions.
This UGV can be equipped with different types of equipment, including night vision camera, gunshot detection system, chemical detection system. A total of 15 accessories are available for this robot.

The Nerva-XX is 47cm long, 42cm wide and 18cm high, and weighs 12.2kg with two batteries with a maximum payload of 15kg. The NERVA-XX can reach a speed of 5 km/h and has a range of 150 to 240 minutes.



Nerva-S and Nerva-LG from Nexter Systems


The Nerva S is a small UGV of the Nerva family, more compact than the Nerva LG. This two-wheeled robot weighing 2 kg can be used for both indoor and outdoor operations. The equipment includes a high resolution daylight/IR camera and a microphone. The control range is 200-500m.

The NERVA LG is a multi-purpose mini unmanned ground vehicle (UGV) that has been designed to perform missions of detection, reconnaissance, observation, surveillance, counter IED (improvised explosive devices), road clearance , smoke generation, firefighting, transport and other civil security missions in the CBRNe (chemical, biological, radiological, nuclear and explosive) field.

The NERVA LG has a length of 350 mm, a width of 310 mm and a height of 150 mm, and weighs 4.5 kg. The NERVA LG robot can reach a speed of 15km/h and has a range of two hours.
SHARK Robotics Barakuda Robot


The French company Shark Robotics presented its mule robot Barakuda.

The Barakuda is a versatile mule robot designed to work in high-risk areas (it can be dropped from the air). This robot helps men to transport equipment or injured people, to take information readings, to allow day/night and thermal vision thanks to video equipment mounted on the robot.

With its four 3000 Watt motors, Barakuda has a load capacity of 1000 kg and a pulling capacity of 2000 kg, while it weighs only 400 kg. It has a range of 10 hours and can go up to 15 km/h.


MAWSHI exoskeleton


The UPRISE™ Tactical Exoskeleton is developed and produced by the Canadian company Mawashi. This is a battery-free passive system, it was developed taking into account the evidence of injuries that have occurred remotely in recent years. Designed to reduce skeletal muscle injuries, UPRISE™ stands for Ultralight Passive Ruggedized Integrated Soldier Exoskeleton.

The UPRISE™ mimics the human form, with a flexible spine and sliding waistband that combine to provide great freedom of movement. The exoskeleton is padded and its shape is precisely adjusted thanks to a Boa dial in several places on the legs.

The harness also fits into bulletproof vests as well as other loads such as bags. Additionally, they demonstrated that equipment normally worn on the war belt, such as holsters, can be attached to the exoskeleton. Whatever is attached to the system, all of the weight of the exoskeleton is supported by a plate that is inserted like an insole into the wearer's shoe. In fact, UPRISE™ transfers 50-80% of the wearer's load to the ground. Mawashi intends to use it for missions of three to seven days.
MC2 Technologies NERO F5 Drone Gun


The NERO F5 is developed and manufactured by the French company MC2 Technologies. It is a microwave jammer capable of disrupting and neutralizing all communication protocols used by drones. The product is based on a portable rifle offering great flexibility to operators in terms of detection, tracking and neutralization.

This system allows jamming to be used in a timely manner, at a specific location. What makes this possible are the directional antennas inside the rifle. The user must aim the drone to neutralize it.

The NEZRO F5 can jam drones at a maximum range of 2.5 km. It has a total weight of around 7 kg and a battery life of 2 hours.
DroneShield Tactical Drone Gun


DroneGun Tactical offers a safe countermeasure against a wide range of drone models. It is made by the Australian company DroneShield. It enables controlled drone payload management such as explosives, without harming common drone models or the surrounding environment, as drones typically respond with a controlled vertical landing in place, or returning to the starting point ( helping to follow the operator).

The drone cannon has a length of 143 cm and a width of 20 cm, and additionally weighs around 7.3 kg. It has an effective range of 1-2 km and a run time of 2 hours using two rechargeable Lithium-Ion batteries.
Griffon 6x6, multi-role armored vehicle


The Griffon is a new generation of multi-role armored vehicle based on a 6x6 military truck chassis. The vehicle was developed for the French army as part of the EBMR Scorpion (Engin Blindé Multi-Rôles - Multi-Role Armored Vehicles) program. The vehicle was designed and developed by a consortium of French companies including Nexter Systems, Renault Trucks Defense and Thales.

The Griffon VBMR is equipped with the latest technology in vision and day/night vision equipment. The Griffon's standard equipment will include a new command, control and networking system.

The Griffon is equipped with a ranged weapon system manufactured by the French company ARQUUS, which can be armed with a 7.62 mm or 12.7 mm heavy machine gun or a 40 mm automatic grenade launcher .
MRZR ATV and Quad MV850 from Polaris Defense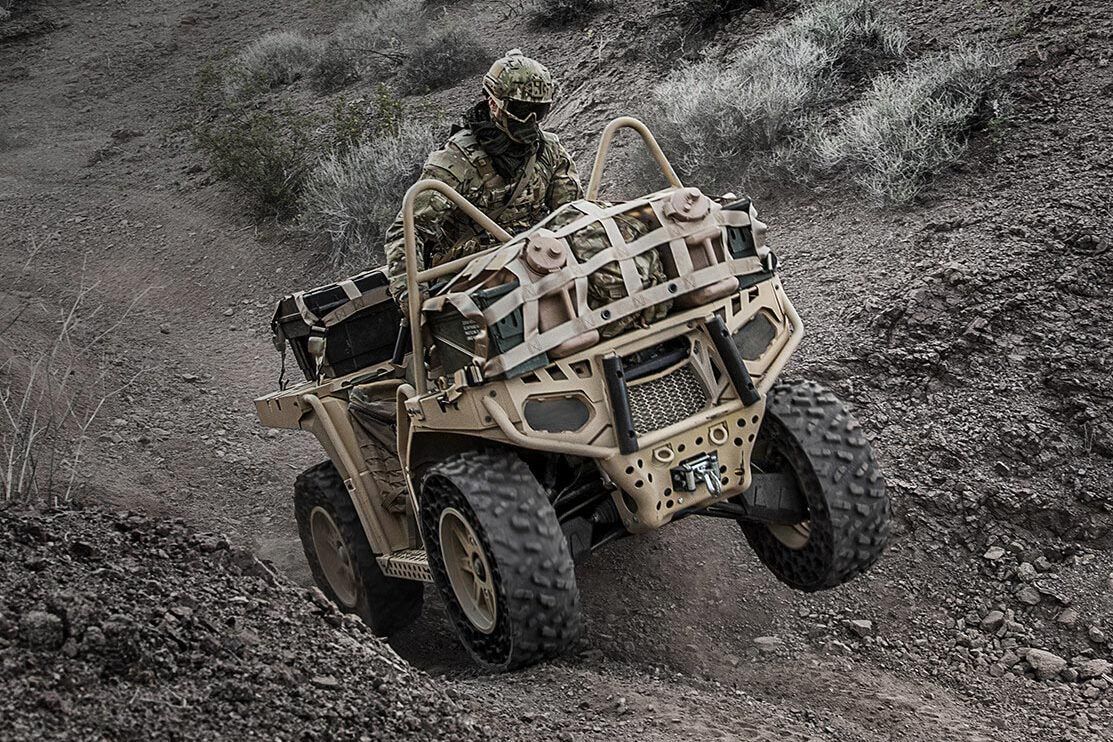 The MRZR is a new all-terrain vehicle developed by the American company Polaris Defense, a division of Polaris Industries. The Polaris MRZR 4 vehicle incorporates a tubular frame and a conventional layout with the engine in the front, the crew seats in the middle and the luggage compartment in the rear. The roll cage can be folded without tools to reduce the height of the vehicle.

The MRZR provides seating for four soldiers and can accommodate up to six infantrymen when equipped with two optional rear-facing seats on the cargo bed. It has a weight of 852 kg and can carry a maximum payload of 680 kg. It can reach a maximum speed of 96 km/h.

The Quad MV850 is an LT-ATV all-terrain tactical light vehicle also manufactured by the American company Polaris. It is a vehicle that travels on low pressure tires, with a single seat that is straddled by the operator, as well as handlebars for steering control.

The Polaris Quad MV850 is designed to carry up to 385 kg of military payload over the most extreme off-road terrain. It offers off-road capability, durability and tactical features developed from feedback from operators around the world. It can drive at a maximum speed of 80 km/h.


K9 vision camera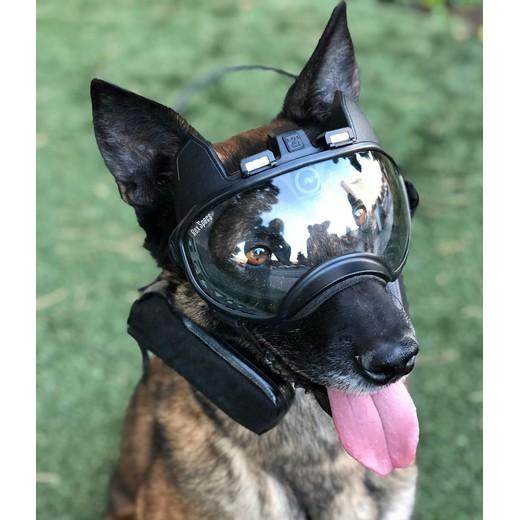 The K9 Vision is a goggle mounted dash cam for a dog. Video and audio can be automatically recorded and transmitted up to 300m.
Scorpio drone launcher

The Scorpio is a lightweight Toyota pickup capable of launching a drone through a ramp mounted on the back of the vehicle


NX70 micro-drone from Novadem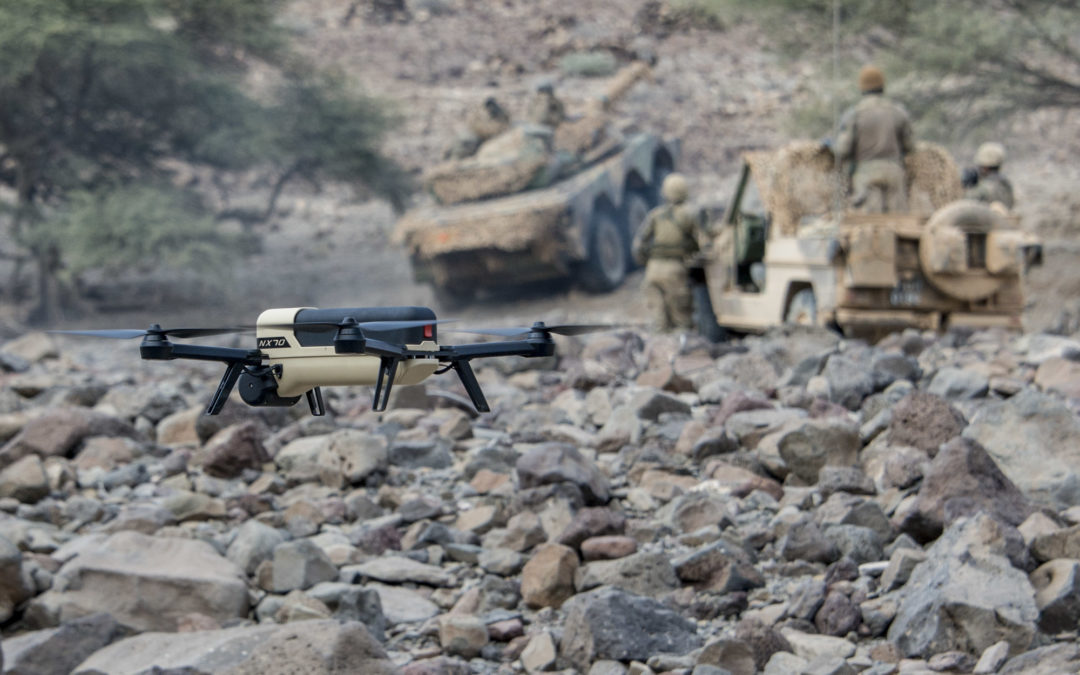 The NX70 is a drone or unmanned aerial vehicle (UAV) for micro surveillance and reconnaissance, designed and manufactured by the French company Novadem. Recently, the French army ordered 50 drones.

The NX70 has a weight of only 1 kg. Its flight autonomy can reach 45 minutes and it has a range of more than 3 km.
Zapata Flyboard


During the 2019 French Bastille Day military parade, Zapata's Flyboard demonstrated its ability to be used by a soldier armed with a personal weapon as an assault rifle, with a flight demonstration in front of the Presidential Tribune. The Flyboard could be the future of modern armed forces to create the flying soldier.


Black Hornet micro drone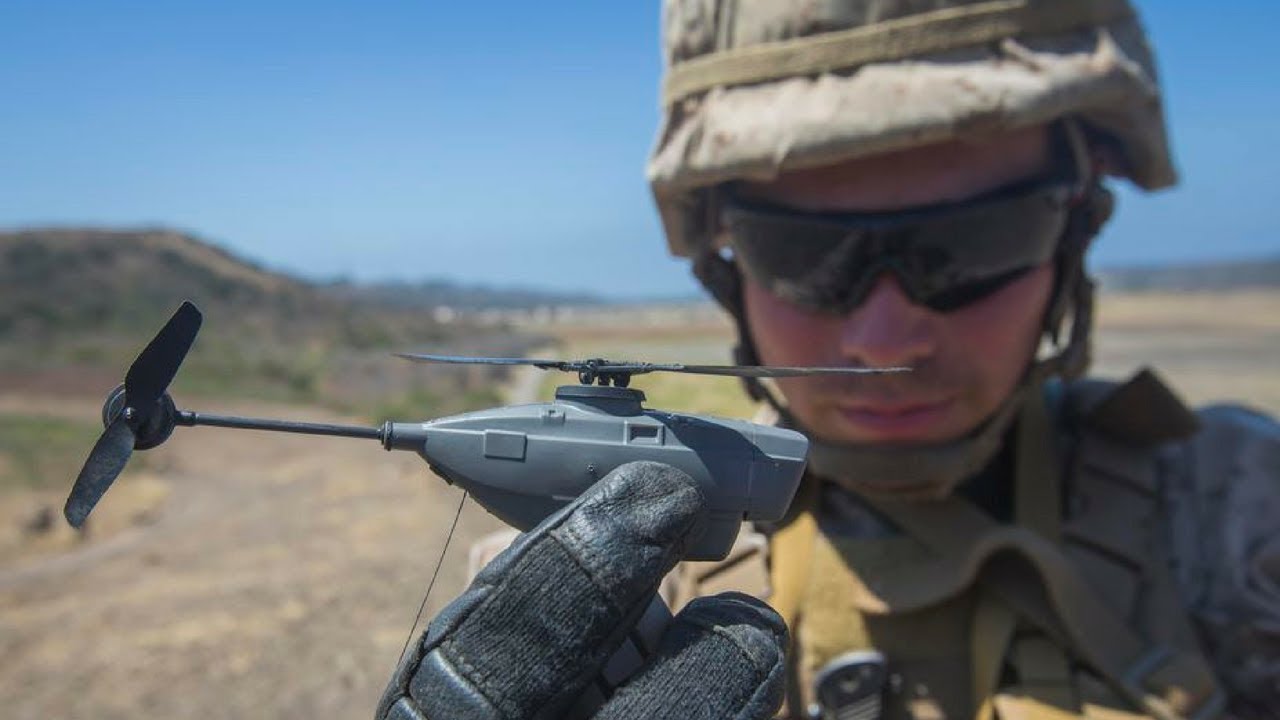 The Black Hornet is a military micro drone developed by the Norwegian company Prox Dynamics AS and is currently in service with the French special forces. The PRS Black Hornet Personal Reconnaissance System is the world's smallest operational Intelligence, Surveillance and Reconnaissance (ISR) platform.

The Black Hornet has a rotor diameter of 123 mm and a length of 168 mm, the drone weighs no more than 33 gr. The latest version of the Black Hornet is equipped with two electro-optical (EO) cameras and a fused LED light nighttime thermal imager. It allows soldiers to capture live video and still images by expanding their visual field.

The Black Hornet micro-drone is electrically powered by replaceable batteries. It can fly at a maximum speed of around 22 km/h and offers a flight endurance of up to 25 minutes and a range of 2 km.
Saffron Exoskeleton


Sagem (Safran) has signed a partnership agreement for the development of exoskeleton technologies with the Percro laboratory of the Sant'Anna School of Advanced Studies in Pisa, Italy.
An exoskeleton is an independent electromechanical structure or a kind of external skeleton, which can be worn by a human being. It can increase a person's physical abilities in terms of strength, speed and accuracy.

An exoskeleton can be compared to a kind of mechanical armor. Sensors are attached to the structure and record the movements of the person wearing it. The information collected is transmitted to the "muscles" of the machine, which are in fact electric motors reproducing the movement of the person, but with increased power.
For an exoskeleton to work properly, all the motors must be synchronized with each other. Working on the general balance of the exoskeleton makes it possible to optimize its capacity for "postural recognition", that is to say the capacity of the machine to interpret the position that the user wants to adopt.
shock vest

The "Shock Absorber" protected vest offers ballistic protection thanks to an adjustable pressure air bubble system that absorbs and distributes impact energy.


0 comments