What is an IFAK? What material is found in an IFAK?
An IFAK (Personal First Aid Kit) is an essential part of your gear, whether you're a police officer, first responder, or just an active outdoorsman. An IFAK is more specialized and essentialized than an basic survival kit ; if space and weight are limiting factors, you'll want to carry something closer to an IFAK.
An IFAK is your best friend when it comes to dealing with serious trauma. Its contents can also help you treat moderately serious but non-fatal illnesses and infected wounds. In this guide, we'll break down the contents of a typical IFAK and briefly outline how to use each item.
Note: The medical instructions contained in this article are only an introduction and cannot replace proper medical training.
Essential IFAK Components
IFAK content can vary widely, but any product worth its salt should contain most or all of the following.
CAT tourniquets

A CAT (combat application tourniquet) is an easy to use tool to control arterial (i.e. fast and bright red) bleeding. Wrap the band around the injured limb about six inches above the wound site, hand-tighten as much as you can, then use the windlass to tighten the tourniquet until the windlass no longer turns . Secure the windlass in place with the retaining strap. Tourniquets are extremely painful when applied correctly and may require amputation of the affected limb if left in place for long periods of time, but in cases of severe arterial bleeding you may not have pain. other choice.

QuikClot

QuikClot is a powder capable of instantly stopping severe bleeding. In general, you should try QuikClot before resorting to a tourniquet. No prescription or license is required to purchase and it's easy to use - just pour it directly into the wound, then compress it firmly with gauze. QuikClot causes severe pain upon application and can be very difficult for surgeons to remove, so be sure to only use it on life-threatening bleeds.

Pressure dressings

If a wound is bleeding dark red and steadily but doesn't warrant a tourniquet, use a pressure bandage, which is simply a bandage with tails or ties that you can tie over the gauze to hold it firmly in place. Some compression bandages are pre-coated with QuikClot.

Oil/abdominal dressings

In the event of an abdominal evisceration with exposed viscera, you'll want to have some petroleum-based dressings on hand. These are large dressings coated with petroleum jelly that keep the intestines and organs relatively moist and clean until the patient can receive appropriate care. Never try to push exposed organs back inside the abdominal cavity - just lay the dressing loosely over it and tape it gently.
Gauze pads and rolls

A few rolls and square compresses of gauze are useful for padding and wrapping minor wounds.

NPA/OPA

Nasopharyngeal and Oropharyngeal Airways (NPA and OPA) are simple airway adjuncts that can help unconscious patients breathe more easily. Both have simple diagrams on their packaging detailing their use.

Trauma shears

Trauma shears are designed to cut clothing without cutting skin, allowing easier access to injured areas of the patient's body.

Irrigation syringe

These syringes are filled with sterile saline solution and come in different sizes, although 5cc and 10cc versions are the most common. They are used to clean debris from wounds before suturing or bandaging.

Mole

Moleskin is a simple adhesive bandage designed to prevent friction injuries and help existing ones heal faster. Apply it to painful blisters or corns to reduce pain and keep them from getting worse.

Triangular bandage

A triangular bandage is a simple but versatile strip of fabric that can be fashioned into a sling, pressure bandage, tourniquet, head bandage, or one of twelve other useful items.

Coban

This self-adhesive wrap is ideal for covering loose gauze bandages and keeping them in place. It can also replace a wrist or ankle circumference in the blink of an eye.

ACE wrap

Elastic bandages are an excellent first-line treatment option for treating sprains. They can also hold other basic bandages or splints in place.

Tweezers

Tweezers are incredibly useful, especially considering how little space they take up. Useful for everything from removing splinters to suturing wounds, they are an indispensable part of an IFAK.

medical tape

Like tweezers, medical tape has many uses and you should always have some on hand. In addition to securing bandages, duct tape is also good for gently removing dirt from wounds, wrapping sprains, and bundling loose items to create convenient kits.

Aluminum splint

An aluminum splint (often called a "SAM" splint after the most popular brand) is a semi-rigid, flexible sheet of aluminum wrapped in foam. It is used to stabilize sprained or fractured limbs and is usually wrapped in an elastic bandage to hold it in place. Aluminum splints are much better than no splint at all, but since they bend easily, they will not completely prevent the limb from moving.
Advanced IFAK Supplies
Depending on your medical history and local laws, it may be possible to legally acquire advanced medical supplies for your IFAK. If you decide to stock such supplies, seek additional training in their proper use before attempting to treat living patients. There are a few private agencies that offer tailored versions of military training programs, such as combat lifesaving courses, to civilians.
Suture kit or skin stapler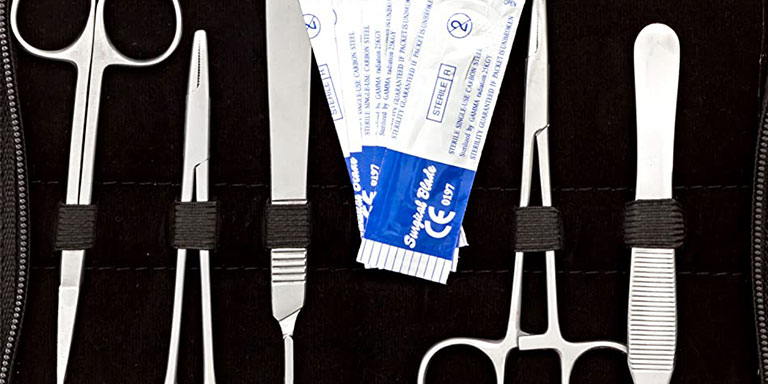 Wounds of a certain length or depth will require sutures or staples to heal properly. Practice treating these wounds by making incisions in old couch or chair cushions, then sewing or stapling them shut. You might also consider stocking up on Dermabond, a type of super glue designed to close wounds - it's easier to use and more readily available than sutures or staples, although it's less effective for particularly large wounds.
Saline Lock IV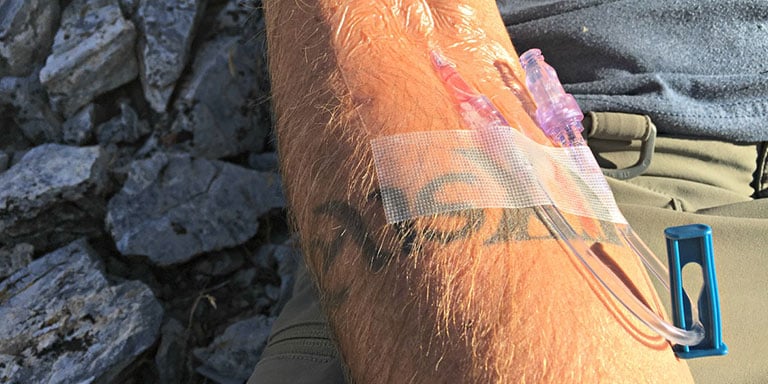 In most countries, you cannot legally obtain IV fluids without a prescription or medical license, but in some places you can freely purchase certain types of needles and saline locks (devices used to establish and maintain IV access independent of fluid infusion).
Intravenous therapy is an advanced skill, and a tutorial on the subject is beyond the scope of this article. If you want to carry saline locks in your IFAK, seek accredited medical training first and practice these skills regularly.
Needle decompression kit and occlusive dressings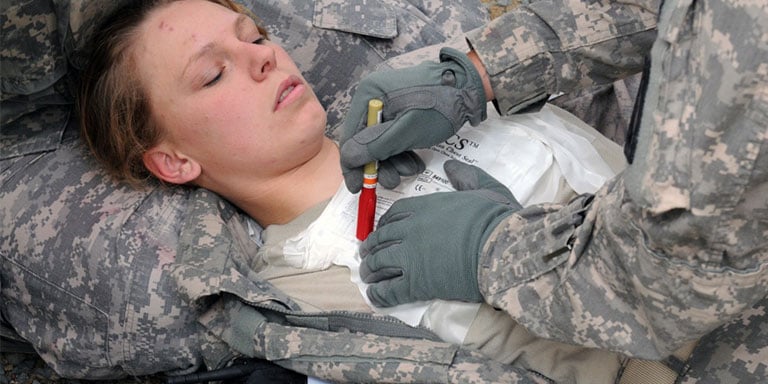 A suction chest injury is a critical life threat that must be addressed immediately. Such injuries can be caused by any penetrating trauma to the chest. Air enters the chest cavity and begins to increase pressure on the lungs and trachea, eventually causing a tension pneumothorax (or one of many other complications, each of which can be fatal in the short term).
Signs and symptoms of a tension pneumothorax include chest pain and tightness, difficulty breathing that worsens over time, sweating, rapid heartbeat, and cyanotic (blue) skin. If you see these signs and symptoms in a patient who has suffered chest trauma, perform a needle chest decompression.
Lay the patient on their back and locate the third rib on the injured side of the chest by pressing hard with your fingers (the first rib is tucked under and slightly behind the collarbone or collarbone - do not count the collarbone itself). When you have located the third rib, insert a 14 gauge needle at a 90 degree angle just above it (as opposed to below the bottom of the second rib), directly above the nipple. You should hear a slight hiss as air begins to escape from the chest cavity, which should gradually relieve pressure on the injured lung. Insert the needle all the way to the hub, then pull it out leaving the plastic catheter in place. Secure the catheter with tape and get your patient to the hospital as soon as possible.
If you do not have needle decompression equipment or are unsure of your ability to perform the procedure, apply an occlusive (i.e. non-porous) dressing to the chest wound. Stick the bandage on three sides and leave the fourth side open. This will slow the rate at which the pressure on the injured lung increases, but be aware that this treatment only saves the patient a little more time. They still need to see a doctor as soon as possible.
Medications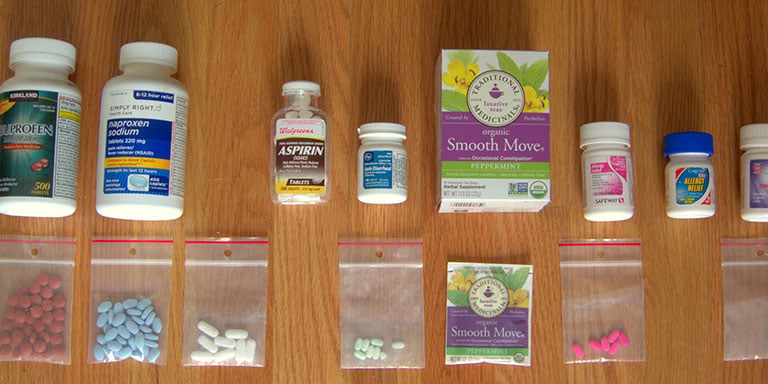 With a small assortment of over-the-counter medications in your IFAK, you'll be prepared to deal with a wide variety of illnesses and infections that may be mild inconveniences most of the time, but can be much more serious in a survival situation. . Such diseases can even aggravate other more serious conditions. Always follow the dosage instructions on the bottle or container.
Painkillers
Ibuprofen (Advil), acetaminophen (Tylenol), and aspirin are each helpful in relieving certain types of pain. Ibuprofen is generally best for muscle aches and can also help with sore throats. Acetaminophen is good for fevers, headaches, and for the relief of non-muscle pain, including wound pain. Aspirin is another general purpose pain reliever and can, in some cases, stop an active heart attack.
Antihistamines
Diphenhydramine (Benadryl) can be effective in preventing and treating both environmental allergies and those triggered by food or medication. Used sparingly and in small doses, it can also be an effective sleep aid, but do not use it for this purpose unless absolutely necessary, as prolonged use can make it difficult to fall asleep without it.
Gastrointestinal relief
Loperamide (Imodium) and bismuth subsalicylate (Pepto-Bismol) can treat many forms of gastrointestinal distress, including diarrhea, heartburn, and nausea.
Anti-itch
Hydrocortisone cream or ointment can relieve severe itching and treat allergic skin reactions.
Burn relief
Aloe gel is ideal for light to moderate burns. It can reduce pain and help burns heal faster.
Antibiotics/antifungals
Miconazole (Monistat), clotrimazole (Lotrimin), and bactrim antibiotics are all must-have IFAK medications. Many fungal and bacterial infections can be treated with just these three drugs. Note that in most places antibiotics are only available by prescription.
Whatever you pack in your IFAK, be sure to regularly review the first aid basics And basic survival medicine . Hone those skills and train with your favorite gear until both become second nature. In an emergency, you'll be glad you did.
0 comments