The best knives to protect against threats in 2021
One of the unfortunate aspects of life is that a self-defense situation can arise at any time. Some people who want to protect themselves can get a concealed carry permit.

However, self-defense knives are also great options for day-to-day protection. Many people assume that having a gun is the best tool for self-protection, but in some cases having a blade on you will give you an advantage in life-threatening situations.

A self-defense knife is not just for law enforcement or military personnel. With the proper training, average civilians can benefit from these tools whether they are attacked by an aggressive group, hunting in the wild, or simply wandering around an unfamiliar neighborhood at night.

That said, not all blades are for self-defense, and you don't want to trust your life to the wrong tool. To help you find the right blade, here is our review of the best self-defense knives that offer optimal protection for everyday wear.


To discover our selection of Special Forces knives, click here.
Top Pick: Karambit Fox 479 G10 Emerson Wave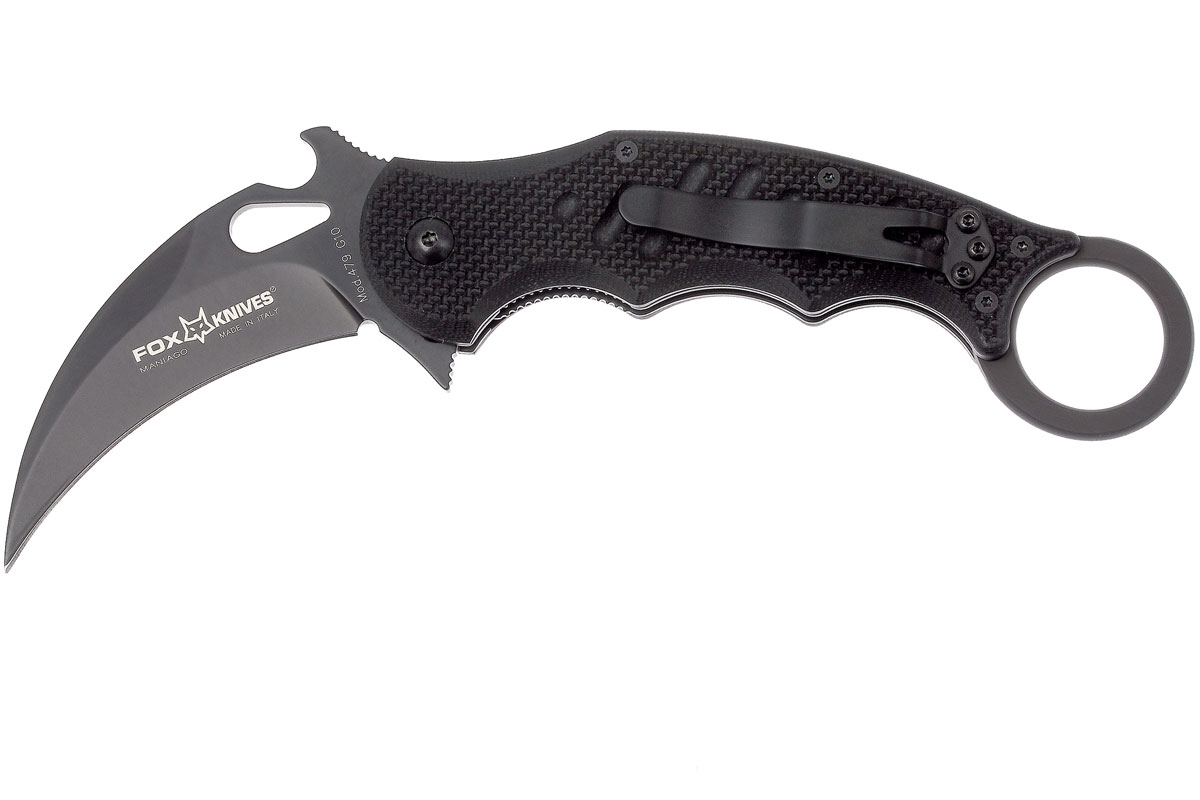 WHAT WE LOVE
Incredibly sharp blade
pocket clip
Top notch building materials
WHAT WE DON'T LIKE
No scabbard
The Fox 479 G10 Emerson Wave sits at the top of the list due to its superior features. With the patented Emerson Wave, this knife features a quick-deploy blade needed for quick action in extreme situations. The curved design is similar to professional karambit knives used by hunters and skilled martial artists.

The blade is light and strong. It has a tiger claw shape with a Teflon coating, which makes its tip super sharp with superior edge retention. Its materials are made of high-quality NC690Co stainless steel, which gives it increased resistance to corrosion. The knife handle includes a retention ring for better grip, but the straight also makes it difficult for an attacker to remove the blade from your hand.
Style and convenience
Some of the best inspiration for blades comes from nature, which is why the Fox 479 is one of the best self-defense knives available. Thanks to its curved, claw-like karambit, an experienced knife-wielder can use the tool in several defensive striking positions, whether holding the blade down or backwards. In addition to being very functional, this knife looks intimidating.

The Fox 479 has a folding blade that locks in place for added strength, but stores neatly in the handle for added security. It features a fully adjustable pocket clip for left and right handed users, which allows the knife to be attached to their clothing or bag strap when not in use. With a blade length of 3 inches and an overall length of 5 inches when folded, this self-defense tool is easy to conceal, making it ideal for everyday carry.

Best Neck Knife: Spyderco ARK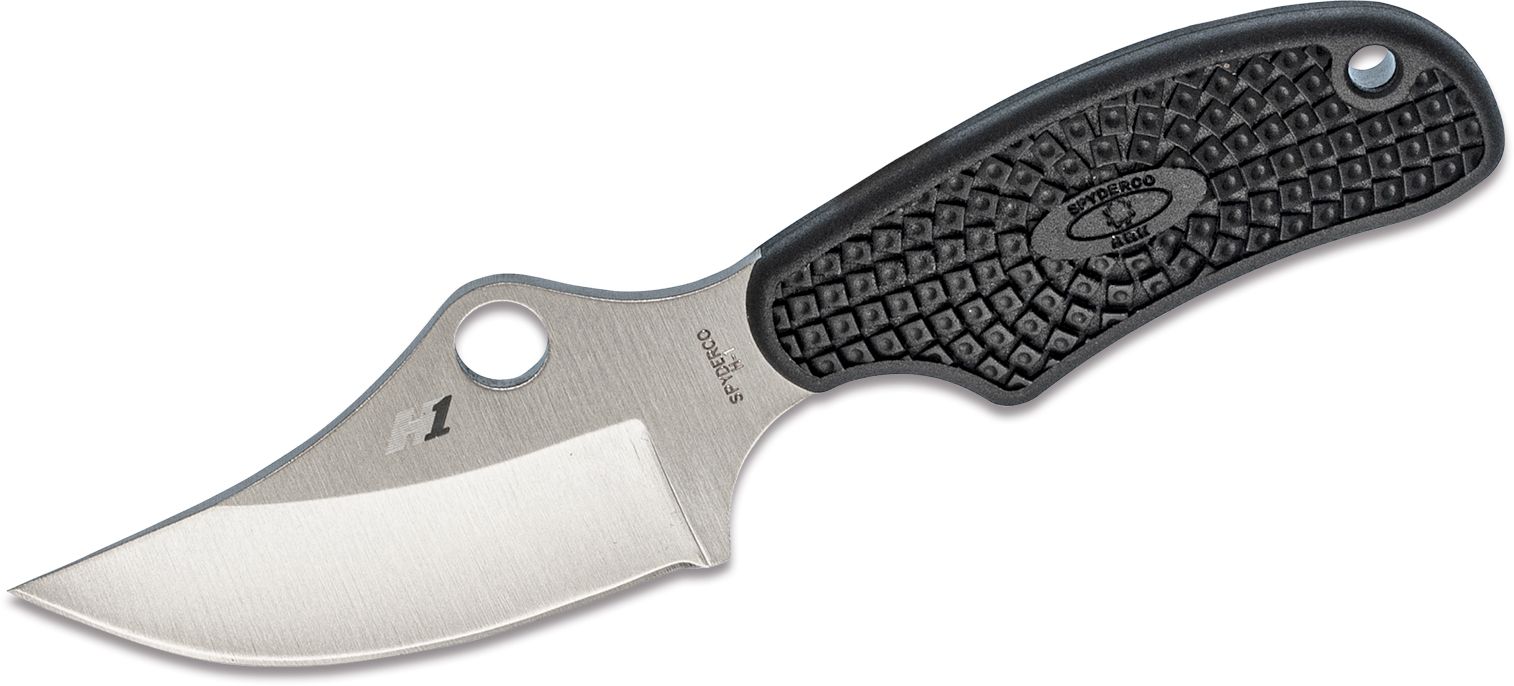 WHAT WE LIKE
Compact EDC knife
Rust resistant blade
Comes with a handy case and chain
Comfortable for 24/7 wear
WHAT WE DON'T LIKE
The tough sheath can dull the blade over time.
This Always Ready Knife (ARK) is a self-defense tool that users can attach to a dog chain for quick EDC access. With a minimal design and compact size, you can wear it day and night without feeling weighed down. The length of the blade is 2.625 inches, and its maximum overall length is 5 inches with a cutting edge of 2.125 inches. As it is a switchblade, it is suitable for precision work.

The blade of the ARK is made of H1 steel, which means it has similar characteristics to higher quality steel, but is more resistant to rust. It withstands water and sweat better than other options. The handle is made of fiberglass reinforced nylon with a textured pattern to improve grip when typing. The handle of the ARK also includes a finger groove to make gripping this self-defense knife more comfortable.
Style and convenience
Comfort is what makes the ARK one of the best neck knives. Even when wearing the polymer sheath, this EDC knife weighs only 0.81 ounces. You won't find a blade more convenient to carry.

In addition to maximizing user comfort, the handle groove serves as a notch for the retention tab of the accompanying black scabbard. It allows the knife to stay in place and not come out accidentally, which increases your safety. The sleek appearance also adds some tactical flair.

If you've never used a neck knife, it'll be hard to find something that beats the ARK.
Second Best Neck Knife: ESEE Izula
WHAT WE LIKE
Sustainable
Compact size
sharp blade
WHAT WE DON'T LIKE
Uncovered handle has sharp edges
The ESEE Izula has an overall length of 6.75 inches making it one of the smallest fixed blade knives available for concealed carry. As an outdoor knife, the Izula has a standard saber handle with approximately 3 inches of purchase on the handle. The drop point blade is made of 1095 steel and has a coating that protects it from scratches and corrosion.

The base of the knife features a thumb grip, allowing you to deliver powerful blows or cut through materials with extra support.
Style and convenience
If you don't like the handle of the saber, you can buy different handles to make your grip of the Izula more comfortable. You can also wrap it in paracord for extra support. Adding a new handle or paracord may be preferable as the edges of the handle may feel too sharp when held for a long time. However, some people may see it as a chance to customize the style, shape, and color of their sleeve.

The knife comes with a polymer sheath for easy transport and to protect the user from accidental cuts.

The pocket knife is incredibly sturdy, making it an unassuming little hunting knife that also works well as an EDC knife for everyday use.
Best Folding Karambit: Karambit CRKT Provoke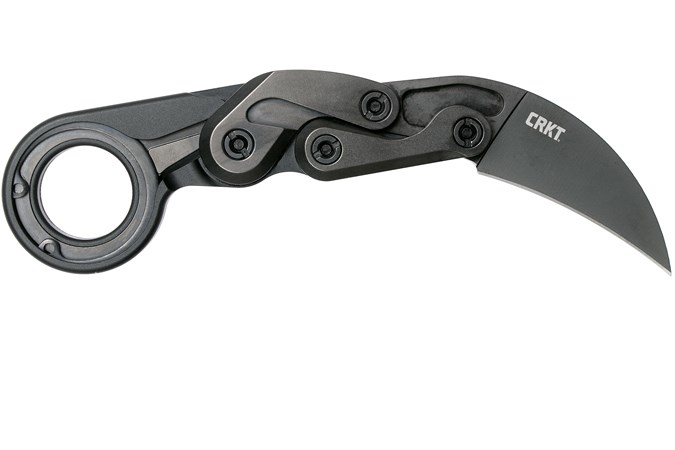 WHAT WE LIKE
Lightning fast blade deployment
Small size
pocket clip
Superior grip and control
WHAT WE DON'T LIKE
High price
You won't have to worry about being caught off guard with this folding knife by your side. The CRKT Provoke Karambit uses cinematic operation to immediately deploy the sharp, curved blade. When you hold the knife, your thumb intuitively lands on the deployment curve, and when you exert light pressure on this point, the blade springs into action.

The blade length is 2.41 inches and is made from D2 tool steel with a nitride coating for extra durability and rust resistance. The handle is a CNC machined 6061 aluminum alloy with a black anodized coating.

When folded, this knife fits comfortably in the palm of your hand for optimal control.
Style and convenience
This folding knife has a unique appearance which adds to its appeal. A Special Forces veteran (Snake Eater Company) said that the CRKT Provoke is a "unique design" with a brass knuckles buckle that you can use for non-lethal self-defense.

The CRKT Provoke is equipped with a pocket clip, but this is perhaps more decorative than functional. The blade may deploy unintentionally when trying to extract the tool from this clip. That said, the knife comes with a tough Kydex sheath to prevent mishaps.

Due to the size of the handle and the weight of the knife, the CRKT Provoke may be too heavy for everyday carry.
Best Fixed Blade Knife: Ka-Bar Becker BK2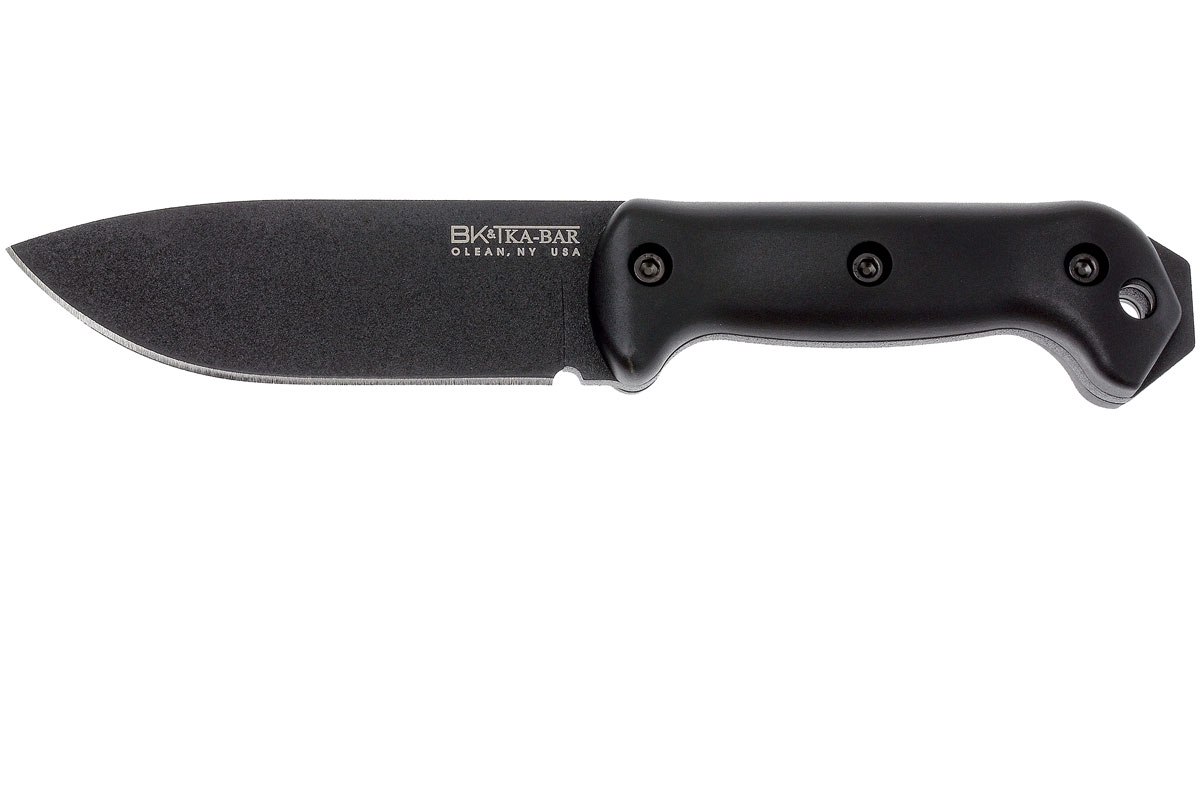 WHAT WE LIKE
Good value for money
Incredibly strong steel blade
Ideal blade thickness for chopping and baton use.
WHAT WE DON'T LIKE
a bit heavy
Ka-Bar is known for offering some of the best tactical knives. If you're a hunter or spend a lot of time wild camping, you need this knife by your side. The Ka-Bar Becker is thicker and more extensive than most knives on this list. Its drop point blade length measures 5.25 inches with a thickness of 0.25 inches and weighs around 16 ounces - you could say it packs a serious punch.

The blade is made of high carbon Cro-Van 1095 steel with a powder coating for better edge retention and greater strength. His abilities include crafting, skinning, kindling splitting, and self-defense.

The handle is as comfortable as the blade is sharp. It features contoured Zytel nylon resin scales so the knife won't slip out of your hand, even in wet conditions. The knife comes with a molded sheath and nylon belt loop for accessible storage.
Style and convenience
The black powder coating of the Ka-Bar Becker adds to the pleasing appearance of the knife. It doesn't come with fancy bells and whistles, but its 10.75-inch overall size and monochrome color give it a terrific aesthetic. The coating also makes the knife glare resistant, allowing for better visibility when in use and increased concealment from others.

The Ka-Bar Becker BK2 knife and its sheath have several mounting holes if you prefer not to put it on your belt. The knife may be too big to wear around the neck, but that's an option. The scabbard also features superior flexibility and durability as its material is glass-filled nylon.

Although too heavy to be an EDC blade, the Ka-Bar Becker is a very handy tool for anyone spending time outdoors.
Best Fixed Blade Karambit: CRKT Du Hoc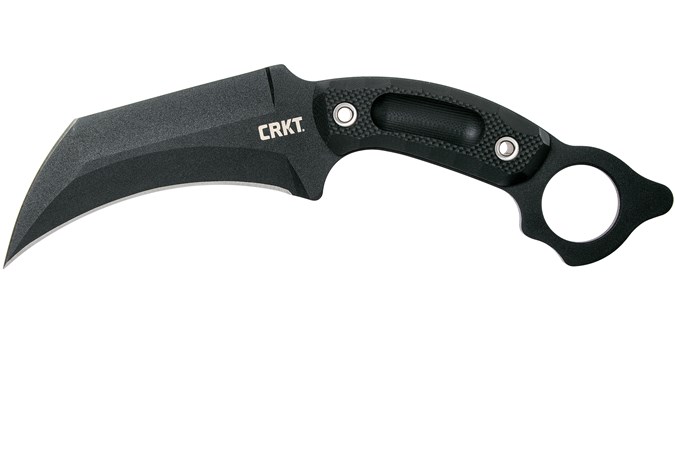 WHAT WE LIKE
Versatile knife for self-defense, hunting and camping.
Long life expectancy
Sustainable building materials
Good price range
WHAT WE DON'T LIKE
Not discreet
Sharp back edge not legal everywhere
For a combat knife that seems to intimidate aggressors, go with the CRKT Du Hoc. The knife has a full-tang design, and its 5.095-inch blade has a hawk's beak shape with a sharp back edge ideal for carving and making long cuts. This feature gives the blade a sharper point and the user better control, which can be a life-saving advantage in combat.

The blade is made of SK5 high carbon steel, which gives it exceptional strength and resistance to wear. The handle has a ring on its lower part to maximize the effectiveness of the grip. The G10 handle features scales on both sides to secure your grip in almost any outdoor condition.
Style and convenience
The Du Hoc CRKT pairs well with any military-inspired tactical gear. The high carbon steel has high abrasion resistance and an excellent balance of blade hardness. The knife's black powder coating gives it a sleek look, but heavy use can scratch the coating, making the knife slightly unsightly and adding glare. This can be an inconvenience, as you will need to recoat the blade with a new coating to maintain its original appearance.

This item includes a suitable GRN scabbard to keep the blade covered so you don't hurt yourself or someone else when you're not using the knife. You can attach the Du Hoc scabbard to a gear kit or tactical bag for additional carrying options.
Best ush dagger: Cold Steel Safe Maker II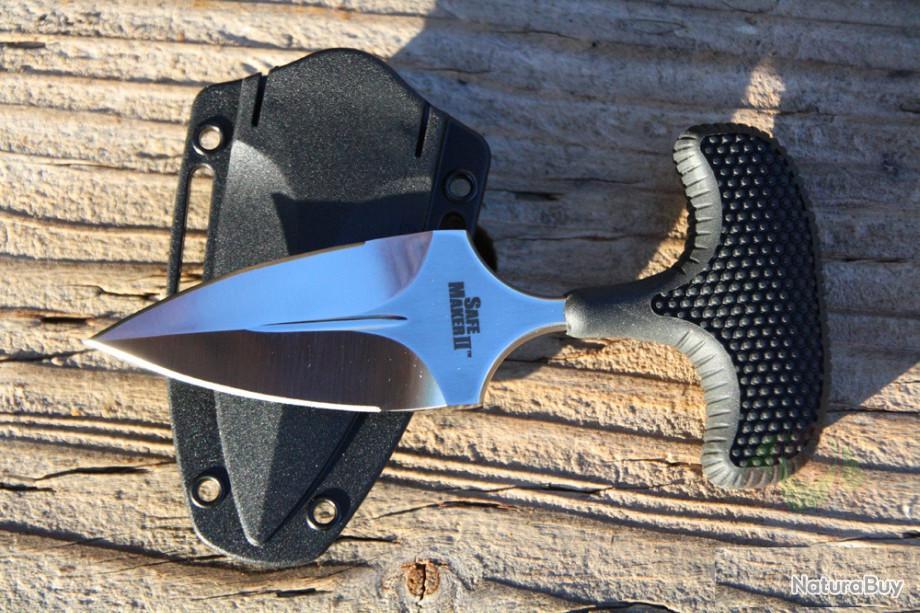 WHAT WE LIKE
Sharp stainless steel blade right out of the box
Excellent Kydex holster
Double-edged knife
Affordable
WHAT WE DON'T LIKE
The beaded cord may be too small
This dagger style push knife is excellent for anyone looking for self defense items for EDC. The shape of the blade, associated with its handle, resembles a "T". The handle is hollow, and you hold it between your fingers like a typical push knife.

It has an AUS-8 stainless steel blade that exhibits exceptional wear and corrosion resistance, hardness and edge retention. The handle material is also of high quality, providing a comfortable grip during heavy use. It is made of Kraton, which improves the shock absorption of the knife and allows the user to perform multiple strikes without hurting themselves.
Style and convenience
The blade of this product features a satin finish and a black handle, giving it an elegant and imposing look.

The length of the Cold Steel Safe Maker 2 is just 5 inches, and it weighs 2.50 ounces, making this knife suitable for carrying discreetly. Thanks to its ergonomic design, you can use it comfortably in any hand.

It comes with a tough Secure-Ex sheath to clip to your belt or boot for easy access. However, since it is designed to be concealed, a thick belt will cause the scabbard to bend and be difficult to use. Luckily, you can have the knife sheathed around your neck with the included beaded steel lanyard.

Best Budget: Cold Steel Double Agent
WHAT WE LIKE
Affordable
Excellent cutting capabilities
Secure grip
WHAT WE DON'T LIKE
Poor scabbard design
Not suitable for small hands
You might expect a cheap self-defense knife to be ineffective, but the Cold Steel Double Agent delivers reliable performance. It has two rings, one near the blade and the other near the end of the handle, for your little finger and index finger. With this feature, you'll have a secure forward and backward grip for punching and cutting.

Its 3-inch AUS-8A steel blade in the shape of a hawk's beak is fully serrated for maximum cutting capacity. You will appreciate that the twin rings are made of steel. However, the rest of the handle is made of a durable polymer, presumably to keep the cost down.
Style and convenience
The knife and sheath lay flat and together weigh just over 3 ounces, making it comfortable for everyday wear and easy to conceal on your body. The scabbard effectively covers the blade, but it does not allow rapid deployment.

Although the finger holes are intended for control, they may be too big for small hands. Some people may feel discomfort and have less control during use.

Blade maintenance is another downside. As the materials are not of the highest quality, you may notice some rust and wear. You may need to sharpen it and add water dispersant to keep it in usable condition.
final verdict
While you shouldn't expect danger around every corner, it's best to stay prepared for problems that could put you or someone else in a dangerous situation. When you don't have access to a gun or are out of ammo, knives are good self-defense options for life-threatening situations.

With proper training, self-defense knives will give you the edge over attackers, and they will also help you in other situations, like hunting or fishing. Whether you prefer an EDC knife, a pocket knife for specific occasions, or a knife for your survival bag, you can't go wrong with this defensive tool by your side.

Keep in mind that the best self-defense knife for your needs may not match someone else's qualifications. Before making your purchase, keep in mind what you intend to use the knife for, its materials, its shape, and other features that might enhance or hinder its ease of use.
The Ultimate Self-Defense Knife Buying Guide
People with military or law enforcement ties may understand what they need in a self-defense knife, but for a civilian, knowing how to choose a self-defense knife can be a challenge.

These survival tools are not one size fits all. You need to consider everything from the shape of the blade to the materials of the handle to the type of knife. You should also consider the training you have received to use these defensive weapons and local laws governing the use of pocket knives for protection.

Before attempting to purchase a knife for everyday carry and self-defense, check out our guide to learn how to make a selection that's right for you.
Why do you need a self-defense knife?
If you carry a gun for self-defense, you need a backup weapon to maximize your protection. Guns can run out of ammo or malfunction, and if you don't have access to another weapon, it can be the difference between life and death.

You don't have to carry firearms to use knives for self-defense. A knife is an excellent choice for any civilian who needs extra protection against life-threatening situations. It's better to have a survival knife handy than to have nothing at all.


What you need to know before carrying a knife for self-defense
Local Knife Laws
Before purchasing a knife, one should know the state laws regarding the carrying of concealed knives. Most states consider them lethal weapons and have specific regulations governing the sale and use of knives. Other states may allow concealed carry permits for both knives and firearms.

If you decide to use a knife for self-defence without knowing the local law, you risk being charged with a crime, even if you used the knife for self-protection.
How to use a knife to defend yourself?
Using a combat knife for protection is not the same as using a steak knife for a meal. Without proper training, you risk making harmful mistakes that can lead to injury or death.
If you're seriously considering using knives for protection, get to know the different styles of knives, techniques for gripping them, and multiple defensive positions with multiple arm spans.


Factors to Consider Before Buying Self Defense Knives
Knife type
Assisted opening : This variety includes folding knives, switchblade knives and butterfly knives. They require something to force the blade out, like a switch or a maneuver.
Full Tang: These knives are made of a single solid piece of metal where the blade is an extension of the handle. This variety is very durable and has a long lifespan because it is made of quality metal that does not fall apart or come loose.
Folding Blades : These are compact sized pocket knives that users can close to hide the blade. They are very versatile and include a single smooth, serrated or double-sided blade that is small enough to carry in your pocket.
Fixed Blades : A fixed blade knife is thicker and has a longer overall length than a folding knife, and is better for hunting. The elongated blade is an integral part of the knife's design and does not fold into the handle for storage. Instead, you cover the knife with a sheath.
Materials
Although some self-defense knives are available in various materials like titanium, the best blade material is steel. Steel, one of the strongest metals in the world, offers exceptional strength, longevity and resistance to corrosion. Most steel blades also have a special PVD coating which extends their life and durability.

The handle material can be anything from stainless steel to treated rubber to synthetic celluloid plastic. To ensure the weapon lasts a long time without problems, always go for a quality grip material, even if the price range is higher than your preference.
Blade size and shape
When it comes to finding a self-defense knife, the biggest isn't always the best. The blade length you choose may depend on what your state allows. For example, a large blade may require a concealed carry permit.

The size you choose also depends on what you are using the knife for. Knives are tools, and you may need a smaller size to squeeze into tight spaces to cut cords or keep them in your pocket.

When it comes to blade shape, you have several options, including:

Tanto : A tanto blade is a combat style knife optimized for penetration. It effectively pierces clothing and protective materials with its durable design and slim profile.
Drop Point: A drop point blade is versatile with two blunt edges that angle into a sharp point.
Straight-backed blade : This category includes knives whose traditional shape consists of a curved front part and a blunt, straight back.
Sleeve
Some handles are hollow to ensure that the self-defense knife is light and easy to carry. This feature can be a drawback if you intend to use the butt of the knife, or the pommel, as a hammering tool, as it will not be effective and may damage the handle.

A sturdy, solid handle allows for hammering and gives the user better control of the knife's movements. You will probably have a heavier handle if the blade has a lot of weight.

You also need to consider the handle grip. It can have a contour to allow your fingers to comfortably wrap around its frame or thumb lugs for a better grip. If you want a knife with a rubber handle, choose one with a textured surface to prevent slipping if your hand is wet.
Conclusion
If you are looking for something to protect you from the hardest times in life, a knife is an interesting option. The best self-defense knife is one that meets all your needs and is durable enough to last a long time.
By understanding the laws governing knives and how you intend to use this tool, you'll make a better purchase that gives you the everyday protection you're looking for.
0 comments