The Best Military Watches: Buying Guide 2021
Selection of the 10 Best Military Watches
To say a military watch is useful is an understatement. The best tactical watches can save your life. If you're racing an IronMan, getting lost in the forest, or trying to navigate the mountains in a blizzard, you need a watch that's up to the job. This is where military watches come in.

Tactical watches have countless functions to keep you on the move at all altitudes, on all terrains, and in all weathers.

They are the toughest watches out there . Heavy and highly specialized, they are designed to be used by everyone, from military to amateur survivalists, marathoners to rescuers, mountaineers to mountain bikers.

Military watches put function first. They are the ultimate companion for extreme sports enthusiasts and fighters. They respect the operational constraints of the military, are robust and resistant, and able to withstand the most extreme conditions. These watches will allow you to travel through the most unforgiving environments and emerge unscathed in the end.

The best military watches are also designed in such a way that they are not too bulky or too tight on the wrist, even if they are heavy. They combine high-level durability and the best of modern technology , while looking elegant and serious on your wrist.

You're in a rush ? Here are the best military watches in our rankings:


Casio G-Shock is the best tactical watch
The Luminox is the perfect multifunction watch, and one of the best high-end tactical watches
Suunto Core Military is one of the best tactical watches
The 10 best military watches of 2021
From the best budget watch to the most expensive military watch , here are the best tactical watches available today.


Suunto Core Military
A military watch is just as essential for adventurers and the military as a knife, first aid kit or any other survival tool.

The Suunto is a great example of how wearing a tactical watch can ensure the success of your mission, whether it's hiking secluded mountain trails or cross-country skiing.

It is equipped with an altimeter to monitor your progress during ascents and descents in the mountains. The barometer detects changes in atmospheric pressure while the storm alarm notifies you of any sudden drops and approaching bad weather. It is also one of the best tactical watches with compass.

Finally, you can preset sunrise and sunset times for over 400 different locations, allowing you to plan your activities and make the most of the light each day.

Considering quality and price, the Suunto Core Military is one of the best value tactical watches out there.

Best for : The most economical tactical watch for avid hikers.
Size: 49.1 millimeters
Material: carbon fiber
Movement: quartz
Water resistance: up to 30 meters
Casio G-Shock

You're heading out for a weekend in the great outdoors and need something on your wrist that you can rely on, whether you're hiking in the jungle, skiing, or just planning to take a jaunt outside. road in a luxury SUV.

The Casio G-shock was born from the desire to create the most durable and robust watch in the world. As the name suggests, this watch is fully shockproof, protected against impact and vibration. It is also resistant to gravity, electric shock and low temperatures.

This is one of the reasons it has become a favorite of military and law enforcement officials around the world. It's also waterproof up to 200 meters, so you can wear it while swimming, surfing, or just in the shower.

The EL backlight with Afterglow function allows the time to be read in the dark. The watch also has a 1/100th of a second stopwatch and a countdown timer.

The G-Shock is also a popular model thanks to its discreet and very versatile contemporary design. Indeed, it wouldn't look out of place if worn with a smart shirt and suit for a business meeting - an added bonus.

Thanks to its durability, quality and the multitude of additional functions it offers, the Casio G-Shock is the best military watch from an overall point of view in our list.

It's ideal for adventurers who want to wear something they can wear both in the bush and in the boardroom.
BUY NOW
Material: Resin
Movement: quartz
Water resistance: up to 200 meters
Luminox Navy Seal

If there's anyone who knows how to be prepared for all eventualities, it's a Navy Seal. These military professionals have to endure the toughest conditions while serving around the world. That's why the association of this Luminox watch with some of the most hardened military has already partly won our vote of confidence.

Need to be more convincing? What if we told you that this watch features Luminox's state-of-the-art self-contained lighting system, which requires no exposure to a light source or the pressing of a button. Instead, the light comes from self-powered tritium capsules that last 25 years, making the watch legible in all situations.

The watch is made from a light and strong carbon compound, robustly shaped and, like all diver's watches, it has a rotating bezel. It is water-resistant to 200 meters, with a screw-down case and a crown with double safety seals.

The Luminox Navy Seal series has caused quite a stir in the watch world. But when you see what these watches are capable of, it's clear that the hype is founded. You may not regularly engage in military wars and enemy attacks, but even then, it's good to be prepared. With a Luminox Navy Seal on your wrist, you sure will be.

Ideal for : Anyone who dreams of exhilarating missions in remote and rugged terrain.
BUY NOW
Size: 45 millimeters
Material: CARBONOX™
Movement: quartz
Water resistance: up to 200 meters
Tag Heuer Aquaracer Caliber 5

Tag Heuer's brand slogan is "Don't Crack Under Pressure", which says it all. It's the kind of tactical watch that will see you through any extreme scenario. Whether you're diving in the tropics or motorcycling in remote wilderness, you can count on the watch's reliable and robust automatic movement, Caliber 5, to keep you on track.

It is a professional diving instrument, waterproof up to 300 meters, but even if you are more of a land sportsman, it is an excellent choice.

The display is made of scratch-resistant and anti-reflective sapphire crystal and the bracelet is made of steel, with a safety clasp to prevent accidental opening. Durable materials, a 38-hour power reserve, and luminous hands and indexes for low visibility also make the Aquaracer a high-level tactical watch.

It is an intuitive timepiece to use, with all the functions needed by an outdoor enthusiast.

And it wouldn't look inappropriate if paired with a costume. Overall, the Tag Heuer Aquaracer Caliber 5 is the perfect multifunction watch, and one of the best high-end tactical watches on our list.

Best for : Fashion-conscious outdoor enthusiasts who want a combination of form and function.
BUY NOW
Size: 43 millimeters
Material: stainless steel
Movement: quartz
Water resistance: up to 300 meters
Casio Pro Trek

Do you consider yourself a bit of an adrenaline junkie? Are you happiest when you're out in nature, hiking, climbing, swimming, or doing any other activity that gets your heart pumping?

Then you need a watch that can satisfy your endless thirst for adventure. Casio offers you the Pro Trek sports watch. This series of watches was designed especially for those who appreciate the outdoor lifestyle.

The PRG270 incorporates the Casio TripleSensor Version 3 motor, which is more precise and more energy efficient than previous models. It is battery operated and the battery is recharged by a solar panel built into the watch face. But don't worry if you don't live in the sunniest climate. These watches can remain fully functional for up to 23 months without exposure to light.

The buttons are large and easy to access, so you can get all the information you need without fumbling around. The Casio Pro Trek also features a backlight, countdown timer, thermometer, digital compass, altimeter and barometer. It's the complete set, basically.

Best for : Wilderness lovers looking for the ultimate portable toolbox.
Size: 52 millimeters
Material: Resin
Movement: quartz
Water resistance: up to 100 meters
Garmin Tactix Bravo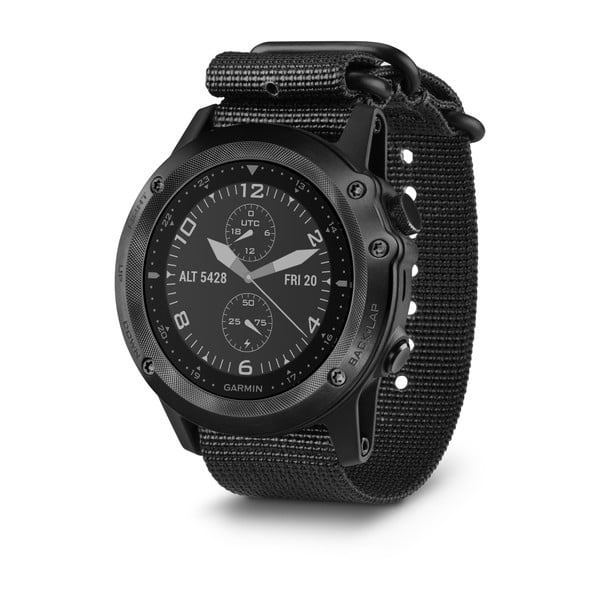 If your idea of ​​fun is heading out into the wilderness with just a backpack and your own cunning, then you need an equally ingenious watch to keep you company.

Garmin has risen to the challenge with the Tactix Bravo which has all the tactical features one would expect from such a name.

For example, navigation and tracking functions and a 3-axis electronic compass help you find your way. Sensors provide information about altitude and weather changes. Night vision mode allows it to be used with night vision goggles. And smart notifications let you get all the emails, texts, and alerts that come to your phone.

Are you more interested in training and fitness than explorations and expeditions? It's also a great sports watch, with the ability to track activities such as golf, biking, swimming and hiking, and also keep track of your pace and calories burned.

It is a multifunctional and extremely durable watch. And, ultimately, the Garmin Tactix Bravo also looks great and is comfortable enough to wear every day.

It is ideal for adventure and outdoor enthusiasts looking for everyday clothing.
BUY NOW
Size: 51 millimeters
Material: fiber reinforced polymer
Movement: quartz
Water resistance: up to 100 meters
Panerai Submersible Marina Militare Carbotech

The Panerai Submersible is, as its name suggests, a diver's watch. But even if you prefer to keep your feet on the ground, it's an outstanding tactical watch for any outdoor enthusiast.

Panerai used to supply watches to Italian Navy commandos, so they know what they're talking about when it comes to military-grade watches. The name Marina Militare is a nod to the brand's nautical past.

But make no mistake, this is a very modern, forward-looking tactical watch. First of all, it is made of Carbotech composite, a material based on carbon fiber, lighter than ceramic, but also hypoallergenic and resistant to corrosion.

Then, the caseback is made of lightweight titanium and the strap is made of very resistant rubber. The watch features luminous hour markers and dots for nighttime readability, and the rotating bezel allows precise calculation of hours of immersion in water.

Although this is the most expensive tactical watch on our list, it's a functional watch for those who like to live on the edge, and one of the best rugged watches available.

With its striking jet-black profile, we think the Panerai Submersible Marina might even be pretty to look at under a shirt.

Best for : The hardcore adventurer with a taste for the finer things in life.
BUY NOW
Size: 47mm
Material: Carbontech
Movement: mechanical-automatic
Water resistance: up to 300 meters
Timex Expedition Shock XL

Are you planning to go on vacation to discover an isolated countryside? Or maybe a mountain expedition? So you're the kind of hobbyist adventurer Timex had in mind when it designed the Expedition Shock XL.

This digital watch was designed for those who like to think outside the box and take on physical challenges. Made of hardened resin, it is impact resistant to ISO standards, making it the perfect tough and durable watch to accompany you in your pursuits.

For fitness fanatics, you can track your best times with the chronograph function. Indiglo backlighting, Timex's breakthrough lighting technology, lets you read the time even after dark.

And when morning rolls around, you can make sure you don't oversleep and miss your dawn mission with the customizable vibrating alarm. There are also two time zone settings, perfect for jet-setters and backpackers.

The Timex Expedition Shock XL also stands out for its incredibly reasonable price for such a feature-packed watch, making it one of the best budget tactical watches on the market.

Best for: Outdoorsmen looking for a tactical watch under $100.
BUY NOW
Height: 50 mm
Material: Resin
Movement: quartz
Water resistance: up to 100 metersSuunto Traverse Alpha
Suunto Traverse Alpha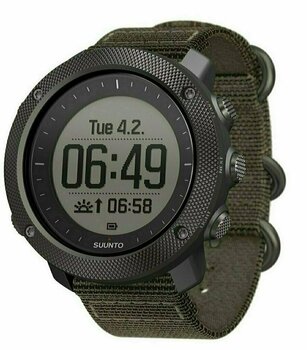 Finnish sports and smartwatch manufacturer Suunto has created the Traverse Alpha. It's the perfect tactical watch for hunting and fishing, thanks to its automatic shot detection technology that tracks when and where you're shooting, tracking GPS coordinates so you can return later.

But even if you've never wielded a gun or held a fishing rod, it's a good choice for any adventurer who's happiest with their hiking boots, out in the wilderness, away from civilization.

It's a tactical watch that takes its job seriously. GPS technology helps track your path. A moon phase locator feature tells you when the moon rises and sets. A red backlight is compatible with night vision goggles and a built-in flashlight allows for other nighttime activities.

The watch is water resistant to 100 meters and is made from a tough composite material, with a sapphire crystal lens and a tough nylon strap. And then there's that sturdy knurled stainless steel bezel. The Suunto Traverse Alpha is certainly a watch that makes sense.

Best for : Hunters and anglers looking for a high-tech accessory.

BUY NOW
Height: 50 mm
Composite material
Movement: quartz
Water resistance: up to 100 meters
Luminox Recon

Another model from the Californian watchmaker Luminox, this tactical watch with compass is part of a series intended for reconnaissance teams heading into enemy territory.

But whether you're really on a military mission or just exploring, this is the ideal tactical watch. Impressively durable, it has a two-time function and a magnetic compass on the strap, which can be removed if necessary. The bracelet also has markings that allow you to use it as a ruler. Awesome.

The watch is equipped with a walking tachymeter which can determine your walking speed. This is useful if you and your team are in hostile territory and need to know how quickly you can get to a safe place. But it's also useful if you just want to know how long before you get home for dinner.

While tactical watches tend to be bulky, the Luminox Recon is quite sleek and streamlined and could lend a bit of personality to business casual attire.

Best for : Aspiring military looking for a military-style watch.

BUY NOW
Size: 46 millimeters
Material: Resin
Movement: quartz
Water resistance: up to 200 meters
Military Watch Buying Guide: What to Look For When Buying a Military Watch

When buying a military watch, there are a lot of features you want to pay attention to:


Barometer - measurement of atmospheric pressure, allowing you to predict weather changes
The compass - an invaluable tool for anyone who lives in nature
Altimeter - measurement of altitude, useful for navigation in the mountains or across the country
Luminescence - is it self-illuminating or does it have a backlight?
Alarm - you don't want to stay up late when you are on a dangerous mission
Thermometer - monitor the outside temperature to know if you are drinking enough water or wearing proper gear
GPS - great for tracking distances whether you're running, biking, hiking or skiing
Tachometer - measure of speed based on time spent over a certain distance
Bluetooth - allows your watch to connect to your phone
Stopwatch - great for tracking progress and breaking personal bests
Solar charger - converts light into electricity so the watch won't run out of battery when out in the wild. For tactical watches, you want materials that can withstand impact and are very durable and waterproof. Movements must also be able to cope with extreme changes in temperature and altitude.
Water resistance - all tactical watches should be water resistant
The rubber/silicone strap - comfortable to wear, waterproof and lightweight
Titanium - very light and incredibly durable, stronger than gold and steel
Sapphire crystal - tough and scratch resistant, less likely to shatter or break

Some of the best tactical watches are made by top brands like Panerai, IWC Schaffhausen, Breitling, and Casio. Others are made by brands that create watches specifically for outdoor enthusiasts and professional military people, like Suunto.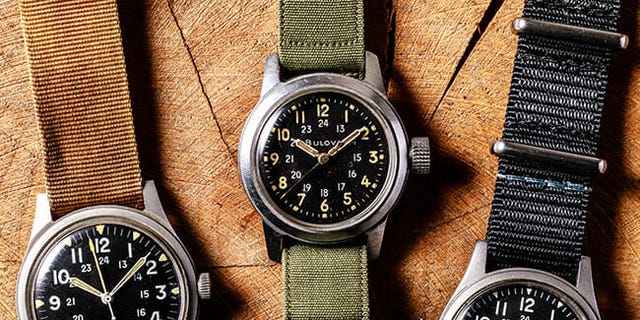 How and when to wear a military watch the right way?

You will most likely wear your tactical watch for certain activities and sports. Tactical watches are designed for use in extreme situations, for example in the mountains, underwater, in blizzards or in the desert.
They must be nearly indestructible, able to withstand knocks without breaking, and their characteristics are therefore designed for use in the wild rather than in the office.

Tactical watches are designed for function, not formal appearance. Therefore, you probably don't want to wear your tactical watch with black tie or cocktail attire. They are too bulky and too conspicuous.

However, some tactical watches are relatively minimalist and could be worn with a costume if desired.
0 comments