What type of airsoft sniper rifle should I choose?
Games based on the use of replicas and tactical equipment are increasingly popular.
Airsoft , because we talk about it, is a unique opportunity to experience an adventure among people who share our love for the military and survival.
When assembling the equipment, we must pay attention to the type of replica we want to use.
In addition to machine guns, shotguns and pistols, we also find demanding sniper rifles.
It's a great choice for players who prefer stealthily eliminating opponents. What type of sniper rifle should we choose?
Demanding role of a sniper
Airsoft is a team competition with a strong emphasis on cooperation.
It's a great idea for a getaway with friends, as well as a great opportunity to make new friends. Battles with the use of replicas are based on knowledge of military tactics, as well as elements of survival.
Each player has a specific position and role in the group, thanks to which he can actively support other participants in the game.
Of the distinctive roles players can play, one of the most difficult is  the sniper. airsoft requires of a player in this position not only advanced equipment, but also shooting skills and, above all, a keen eye!
A sniper is a person who does not move around the playing field, but works stealthily. Such a player must be patient and be able to pull the trigger at the right time.
A sniper is a player who hides from his opponent for almost the entire game, for example in the brush or at the edge of a clearing. The bravest participants in the game even try to hide in the trees!
Players prepare very meticulously for this role. They choose a special camouflage uniform - a ghillie, which will allow it to blend in well with the background, especially in dense bushes.
In addition, the most important tool they do not part with is the aforementioned sniper rifle, which can have a different power supply, have unique masking and be adjustable.
The power of a sniper rifle - why is it important?
Each replica has completely different settings. They differ in terms of rate of fire, ball trajectory and muzzle power.
Machine Guns, Shotguns, and Sniper Rifles are intended for use by the player in a different role on the team.
Each type of replica has an appropriate power supply, which affects the comfort of use, as well as the operation of the equipment. As with other types of replicas, sniper rifles can be divided into three characteristic types: electric, gas, and spring-loaded.
Which type will be the best? It depends on what we expect!
Spring-loaded models are by far the most popular versions of snipers. They work on the basis of the aforementioned spring, which we must compress after each shot. It's a great choice for players who want to keep the gameplay real.
Spring feeding can be troublesome at first, especially for newcomers. However, the more one uses this type of replica, one appreciates its unique work, based on this type of mechanism.
The second type are gas replicas. These are models that allow you to achieve the optimum rate of fire - we can fire serial shots or single shots, as befits a sniper! Gas models are based on the use of special gasoline canisters, which is a specific fuel for our replica.
The gas pushes the ball out of the barrel, putting it at breakneck speed, thanks to which we are able to eliminate the opponent from a distance. The last type are electric versions - fully automatic, allowing continuous or single fire.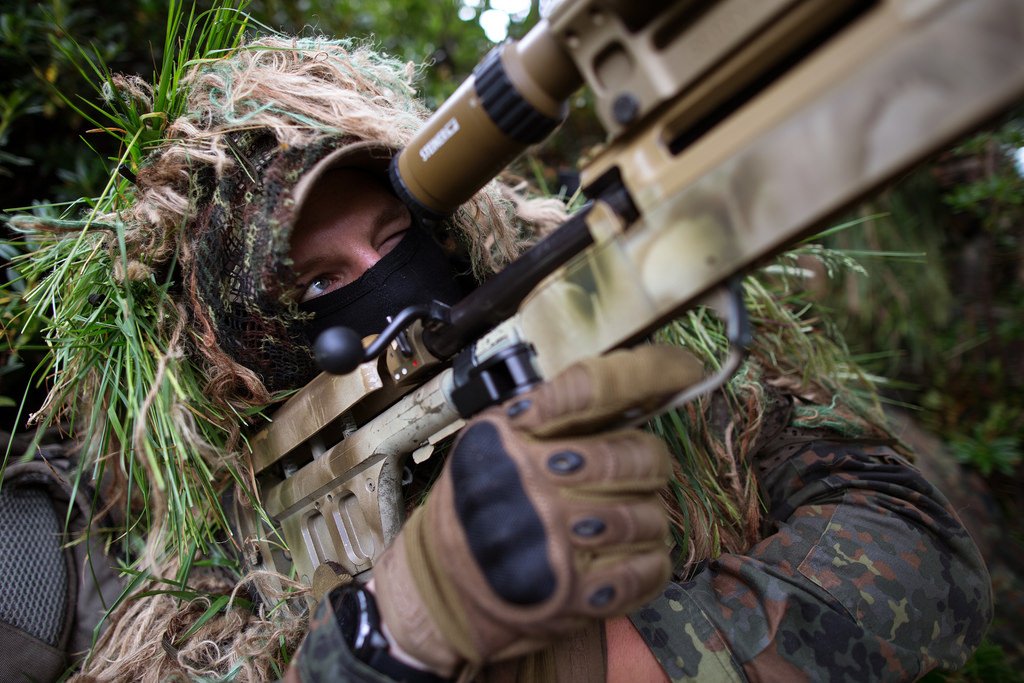 Sniper Rifle Settings Worth a Closer Look
Each sniper rifle model has slightly different parameters and equipment. Offers include heavier or lighter models with different barrel length.
The dimensions of this type of replica are extremely important. It is worth choosing a model that will fully meet our requirements. Thanks to a well-chosen replica, we will be able to enjoy the greatest comfort of use, as well as effectively eliminating other opponents.
When we look at different models of sniper replicas, we must pay attention to the aforementioned type of power supply. The appropriate choice depends on our preferences.
The spring-loaded version will be perfect for players who wish to retain the greatest realism of the replica. On the other hand, for less advanced participants, looking for new experiences, the electric or gas version will be an excellent choice, allowing you to change the type of fire.
In the case of sniper replicas, it is worth paying attention to the additional technologies used in the equipment - Blow-Back and Hop-Up.
The first is responsible for obtaining the characteristic recoil of the replica after each shot. In turn, the second system allows effective correction of ball flight.
It is a good choice, especially when we want to increase the efficiency of our equipment. Let's not forget the color and masking of the sniper rifle, as well as accessories such as scopes and Red Dot.
0 comments